The market has a lot of illegal activities, at your request "Taxi Podgorica Airport" will send you a scanned taxi license, issued by the Ministry of Transport of Montenegro. If your driver, at your request, do not show a taxi license (document A4 size - yellow color) and identification taxi ID card, you are not required to pay taxi in Montenegro scheduled in our company.

Taxi Podgorica Airport Montenegro
Association of professional drivers Taxi Podgorica Airport is providing transportation from Podgorica airport to all hotels and other accommodations, regional airports, and to any resort in Montenegro or abroad. Taxi from Podgorica airport to Budva, Dubrovnik, Petrovac, Bar, etc. is the only way of transportation, because there is no shuttle bus, so book online your transfer from Podgorica airport, and our driver will wait for you at the prominent place, next to the airport exit, with a sign with your name.
Taxi from Podgorica airport to Kotor, Herceg Novi, Tirana, Ulcinj, Bar - service where you can be sure that there is no hidden costs, or any additional taxes. Prices listed in the price list are fixed amount, which you pay when you arrive at your destination. VAT, toll and passenger insurance are included in all prices. Taxi Podgorica airport to Pristina, Tivat, Sarajevo, Hani Hotit - We are providing rides only with new, and comfortable vehicles, higher class, by low rates. All drivers are professional, and each of them is at least 10 years taxi driver. They are familiar with all Balkans roads, and they will take you straight to your destination.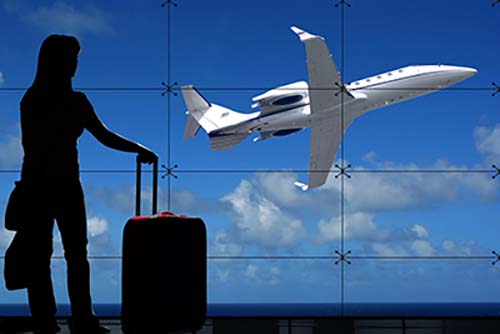 Airport Podgorica taxi service – book online your taxi by simple contact form on the right side. You will get the cheapest possible price for your transportation from Podgorica airport, and most importantly, regular, licensed taxi. Reservations are not charged , just the actual transfer. If your flight is diverted to the airport of Dubrovnik, and you are not able to inform us, we recommend this taxi in Dubrovnik.
Taxi Podgorica airport Montenegro company is not located in front of airport building. If you contact us when you land, our driver will be at the airport approximately in ten minutes. Here you will find information about arrivals/departures at Podgorica airport. We are recognized among the other taxi companies as the most reliable for transfer from Podgorica airport - it is on you to see why !
Taxi Podgorica
Podgorica is a modern city, mostly built after World War II. Business people which are coming to Montenegro are usually the most connected with Podgorica. All state institutions are located here, and a lot of people has a request for a taxi in Podgorica. We are performing rides from Podgorica successfully for many years, to the mutual satisfaction of us, and our clients.
Taxi Podgorica Montenegro is dedicated to providing quality, and at the same time cheap taxi from podgorica. Our phone line is always available. Dispatchers of Taxi Podgorica speaks excellent English, and the answer to your e-mail you will receive as soon as possible. We will always do our best that your journey in Podgorica will be your new and pleasent experience.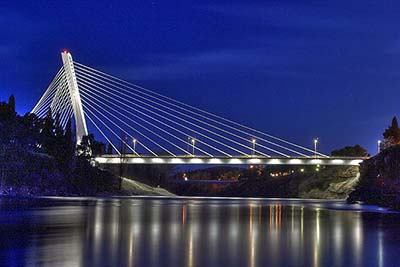 Taxi from Podgorica is the most convenient mode of transport. If during your stay, you inform our association in a timely manner, about your request for a taxi service in Podgorica Montenegro, our driver will be at your address always on time, to provide you with a trip to Podgorica airport, other city, or to any other destination. If you are new here, Podgorica travel guide can help you, and you can see here more about Montenegro.
Taxi in Podgorica exercising public transport, professionally and responsibly. Drivers with years of experience and luxurious fleet, guaranteeing a safe and comfortable transportation in Montenegro. Taxi Podgorica team know very well that without a fair and correct relations there is no real business, so we appreciate all your suggestions and remarks about the service which we are providing. If you need to have a taxi in Podgorica available for several hours or days, you can send us your requirement. According to your wish, vehicle can be without labels and taxi panel on the roof of the car. Also the type of the car can be on your wish (Comfort or VIP). Private transportation in Podgorica is particularly interested to business people. They will spend a couple of hours at the meetings, at the different addresses, and they need to have a cab with the driver available all the time. Also the visitors which want to see the attractions, can get hold of our Podgorica taxi service to schedule their sightseeing.
Taxi vehicles
and
services we provide
In our association all types of transportation from Podgorica Montenegro in economy class done exclusively with the vehicles Mercedes E Class and Volkswagen Passat or Touran. We think that these vehicles meet all the standards in terms of safety, comfort and size of the trunk. If you are traveling with a larger amount of baggage that exceeds the standards, please inform us in advance, so that we booked a van vehicle for your transportation from Podgorica Airport. All vehicles are relatively new, in perfect condition, well maintained at authorized service partners, and each of them has a double digital air conditioning. Our standards for airport transfers exceed the expectations of all our service users. Dependingon your needs for a taxi in Montenegro, we also perform VIP transport, with high-class vehicles (Mercedes S class, Audi A8, BMV 7).
From us you can get the following services :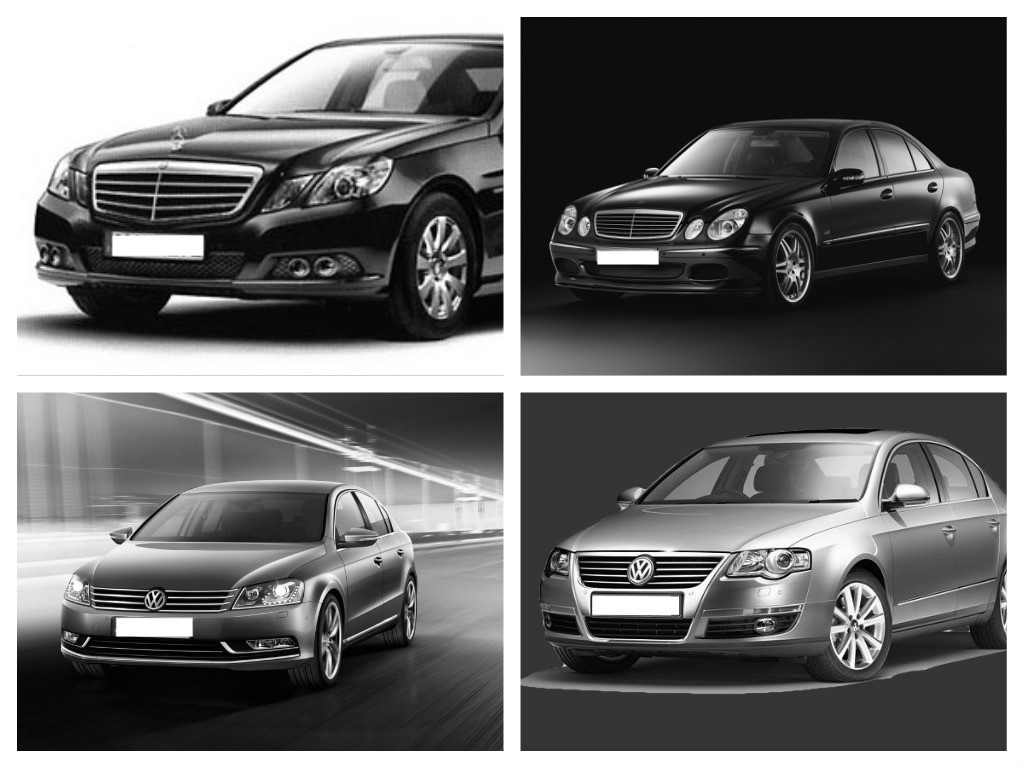 - Taxi from Podgorica airport to any destination.
- Transportation from regional countries to Montenegro.
- Private transfers (taxi vehicles with no taxi marks on them).
- Daily rent a car with a driver.
- VIP transfers in Montenegro
- Minivan transfers in Montenegro
- Tourist tours in Montenegro (Biograd and Skadar lake, Monastery Ostrog, Tara river etc) and abroad (Dubrovnik day tour, Medjugorje, Shkodra fortress etc) .
VIP transfer from Podgorica airport Montenegro must be scheduled in advance, especially during the summer tourist season.
Reservations and payment

You can book your taxi transfer from Podgorica airport, or a taxi from Podgorica bus/train station whenever you want. There is just one price list, which is same every month, during the all year. There is no winter discounts, or higher prices during the summer tourist season. It is very easy to book taxi in Montenegro by our simple contact form. To protect your privacy, we require just your name and email. Answer to your email you will get as soon as possible, with all details (fixed price, ride duration, type of vehicle etc). You can also book your taxi from Podgorica airport by phone call or SMS (English language available 24/7). Schedule your transportation in Podgorica, Montenegro and you will always get a professional taxi driver, comfortable vehicle and low price of taxi service.
How to pay taxi in Podgorica, or taxi transfer from Podgorica airport? All reservations are free of charge, and if because of any reason, you can not realize your trip, please just let us know, also cancellations are free of charge. It is the business policy of our company. If you decide to use our service, you will pay your Podgorica airport taxi service only when you arrive at your address. Payment is in cash, and in Montenegro euro is the only one currency. If you do not have the cash do not worry, ATMs are on every corner and in almost all the hotels. If you want to pay your taxi Podgorica airport Montenegro in advance, please let us know, we will send you the account number and payment instructions.
New in offer ! We are accepting all major credit cards - Visa, Master, Maestro and Diners. If you want to pay your transportation by credit card, please to emphasize that in advance, that we send a vehicle with instaled POS terminal.

About Podgorica Airport
International airport Podgorica, also known as airport Golubovci, is located in the Zeta plain, about 12 kilometres south of Podgorica downtown, and 11 kilometres of Podgorica bus and railway station, and if you do not have private transport you have to take a taxi from Podgorica airport. It is located just two kilometers from the main road Podgorica –Bar, and from Bar it is distant about 40 kilometers. Podgorica airport is serving capital city and passengers which are traveling from Podgorica airport to the north of Montenegro, and to the coastal towns in the southern region of Monenegro.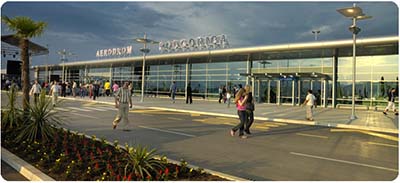 The airport is located on its current location since 1961, near the small town of Golubovci, and still has TGD code, because in the past Podgorica was called Titograd. National operator Montenegroairlains is providing flights to major European cities; Vienna, Paris, London, Ljubljana, Belgrade, Frankfurt, Rome, Zurich, etc, but during the summer tourist season there is a lot of charter flights from/to many other Europian cities.
In the past, public transportation by bus from airport Podgorica was organised by municipality, in cooperation with airlines. Buses just drove to the bus/train station, and to the city centre. But for many years there is no bus service from/to Podgorica airport. Now, airport Podgorica shuttle service is covered only by taxis. New airport terminal was built in 2006, and meets all standards of modern airports. In 2013th airport handle 681.000 passengers, so the taxi from Podgorica airport is very common request.