Taxi from Budva to airport Podgorica Dubrovnik Tirana Split, Kolasin, Zabljak, Pristina, Ohrid, Shkodra and to all other Balkan resorts. Cheap and reliable transfers with reputable professionals and higher class cabs is all you need for safe transportation from Budva to airport Dubrovnik and Podgorica.

From any address in Budva region 24 hours daily available reservations at your choice, online by email This email address is being protected from spambots. You need JavaScript enabled to view it. or phone call/SMS +382 69 951 961.
Taxi Budva to Podgorica airport and Dubrovnik is service which can be scheduled also by our online booking system without credit card and payment in advance. Trust the best transfer team in Montenegro, book your journey at fixed prices per vehicle (mostly Mercedes E class), which can comfortably transport four passengers from Budva to any destination.

Cheap taxi Budva/Becici to Dubrovnik & Podgorica airport or Tirana is not limited just for airport transportation. Long distance rides from Budva to any point in Montenegro, Albania, Croatia, Kosovo is our specialty. All small places in the region are represented in our service, so if you need transport by taxi from Becici Sveti Stefan Milocer to Podgorica & Dubrovnik airport, you can count on us.
Taxi Budva to Podgorica and top resorts in Montenegro
Transportation from Budva/Becici to airport Podgorica or city center is among the most popular tourist requests. Although not recognized as an attractive place to visit, capital is unavoidable for all who want full feel of Montenegro.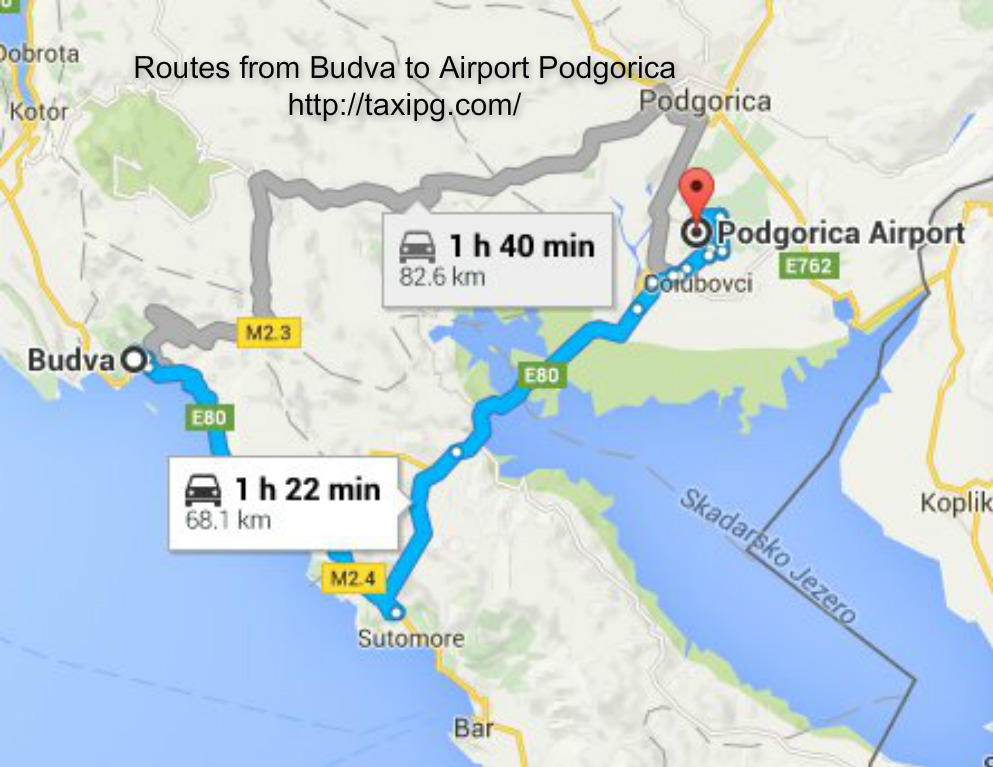 Taxi from Budva to Zabljak, Kolasin, Ostrog monastery, Biograd Lake or any resort in Montenegro on your demand. Visits to national parks or one day tours and excursions from Budva to many other magnificent spots in Montenegro is our 24h service at your disposal. By taxi tour from Budva through Podgorica and further in direction of north, in one day you can have an unforgettable adventure.
Business or private trips, vip service by luxury vehicles, minivan and bus coach transport, all services in one company, with more than twenty years of experience. Taxi rides from Budva to airport Podgorica are more than 60% of the total number of provided transfers from Budva. Other waste on the rides to Dubrovnik and mostly on excursions. Nobody regretted using our service, you will not either.
Taxi from Budva to airport Podgorica cost 50€ one way, with all associated fees. That is invariable price which applies for all rides by regular comfort class cabs, maximum four travelers. Distance is about 65 km, and journey from Budva to Podgorica airport takes roughly one hour and ten minutes.
Transportation from Budva to airport Dubrovnik – Croatia
Taxi from Budva to Dubrovnik airport or Split is leading transfer to Croatia. Hardly than any European country has such a beautiful and jagged coastline as Croatia, and tourists who want to fulfill their visit to the Balkans should not bypass Croatia. Astounding beauty of the islands and peninsulas as well as cultural and historical heritage is main reason for taxi transfers from Budva to Dubrovnik, Zadar, Split, Sibenik and to other cities. For those who want to take home some unforgettable memories of Dubovnik old city, Diocletian Palace in Split or empyrean peace and beauty of the islands we can organize one day tour or excursion to Croatia.
For your cheap transportation from Budva in direction of airport Dubrovnik, Split or Podgorica, professional chauffeurs licensed for taxi activity will help you out in every way. In addition to safe and comfortable transfer they can recommend traditional restaurants and places to relax with a beautiful view of the Adriatic Sea. But from total number of rides from Budva towards Croatia, more than 50% are airport transfers. Let us try to explain why!
Taxi transfer Budva to airport Dubrovnik is seasonal claim, principally from May till the end of September. As the busiest Balkan airport in that period which cover every European country, here passengers can find direct flight to their hometown. To set up online inexpensive taxi transport from Budva to Dubrovnik airport or Podgorica or to check the price, please inform us about exact departure time of your aircraft. This is very important in order to arrange together best pick up time. Keep in mind that the crowds on the ferry and border crossings is something normal during the summer season. Duration of taxi ride from Budva to airport Dubrovnik is flexible, it can take from two to four hours!
Taxi from Budva to Albania – airport Tirana, Shkoder, Sarande . .
Taxi from Budva to airport Tirana except Podgorica, is very frequently ordered transportation from Montenegro - Budva to Albania. Whether you are traveling on, or your plan is to continue holiday in Albania, these transfers are quite common. Usually taxi transport Budva to Albania is summer tourist ride or business trip.
Transportation from Budva to Tirana airport or Sarande, Shkodra, Shengjin, Durres, Himare, Vlore or any point in Albania is very long journey. But no reason for concern, our executive taxi service with professionally trained chauffeur will be on time in Budva to take you to Tirana airport or city area in comfort cabs. Please note that when you are traveling from Budva to Albania - Tirana you have to cross the state border where legitimation of all travelers is obliged. This might cause heavy traffic on the turn, so please if you need a taxi in Budva to catch airport Tirana flight on time, please accentuate your estimated arrival time.
Albania is geographically very similar to Montenegro, and excursions and tourist tours from Budva to Albania - Shkodra are quite common events. If you are from those which are active and you are interested, our price for private taxi tour Budva to Tirana or some famous resort in Albania is very attractive. For large group which require transport by minivan from Budva to Tirana airport or further in Albania, we can ensure also this mode of transfer.
So whenever you need to ensure affordable taxi in Budva to airports Podgorica, Tirana, Dubrovnik or Split we will cautiously organize your voyage, yours is just to make a contact on time.