Taxi from airport Tirana to Budva Podgorica Kotor Ulcinj Bar and all cities, ports, bus and train station in Montenegro, online transportation service at the level of European metropolis. Book your transfer from Albania to Montenegro with proven and occupational 24h available guild which will carry out your cheap taxi from Tirana airport to Podgorica Ulcinj, Budva, Kotor, Sveti Stefan Kolasin according to standards of the best World companies. Any number of passengers is not a problem for us because we have all types of vehicles / standard 4 seats, Minivans up to 18 and Buses up to 55 seats.
Airport Tirana - Podgorica 120 Euros
Airport Tirana - Budva 160 Euros



Taxi from Tirana airport (Rinas) to capital Podgorica and coastal resorts in Montenegro must be scheduled at least 3 hours in advance on the way which is the closest to you – email, through online booking on the website or call us. We are not official taxi Tirana airport, and so transportation to Budva Kotor Podgorica or somewhere else in Montenegro is cheaper, but we guarantee it is more professional. No any payment in advance, you will be charged on arrival to your accommodation in Montenegro. Fixed rates are not changeable, and includes all travel expenses.

Transportation from airport Tirana to Kotor Budva Podgorica Ada Bojana Tivat Bar is mostly request of tourists which want to enjoy the beauty of the first and currently the only ecological state in the world. Upper-class taxis, low-cost prices and experienced drivers are sufficient guarantees that also business trip as taxi ride from Tirana to Ulcinj Podgorica Budva will be provided respecting all the rules. Unmarked vehicle will be parked in front of the exit, and uniformed chauffeur marked by your name/surname sign will wait next to your arrival door to meet and greet you, and to take your luggage.
If you will be pleased with our transport service you can book your ride back by taxi from Budva Podgorica Kotor to airport Tirana at the same price. You can schedule it directly during the ride with your chauffeur, or to contact us again.
Taxi airport Tirana to Montenegro as excursion
If you are worried how to book your transport from airport Tirana - Albania to Podgorica Montenegro, please let us organize your journey to connect useful with beautiful. Public bus transport from Tirana Albania to Montenegro does not exist, and your trip by car can be very educational.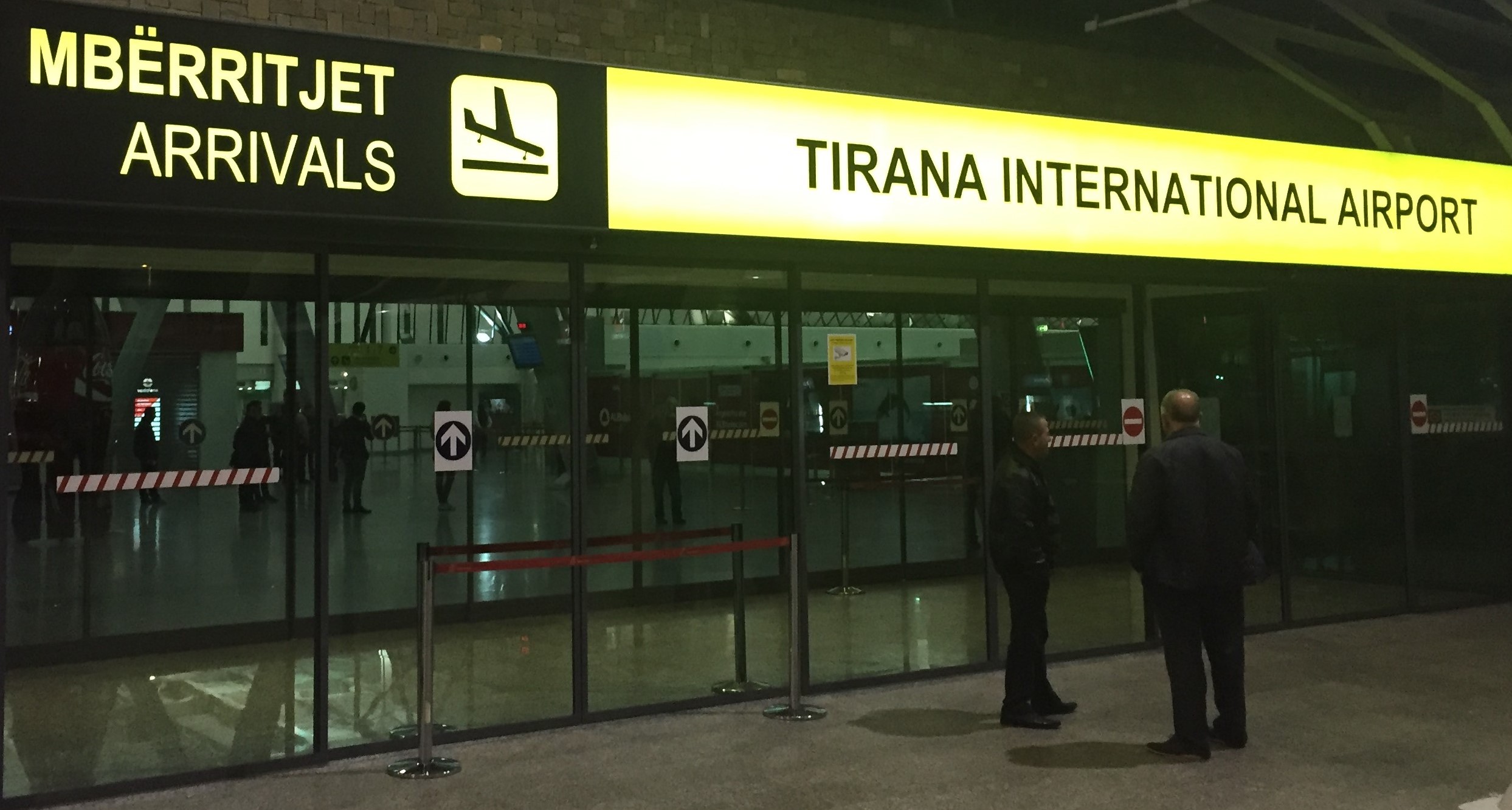 Taxi ride airport Tirana to Podgorica generally is performing by the itinerary via Lezhe and Shkodra, but on request it may be changed. You can enjoy the beauty of the nice landscapes, and choose the route that suits you the best.
Transportation from Tirana airport to Budva or Kotor passing through Podgorica can be magnificent tourist tour, because it can be provided by several different routes. No matter which route you choose, via Podgorica, Cetinje, Skadar Lake or along the coast, maximum pleasure is guaranteed.
But taxi transfers from airport Rinas - Tirana to Ulcinj, Ada Bojana, Bar, Sutomore unfortunately doesn't leave enough place for excursion. Only at your insistence, we can arrange your trip via the central part of Montenegro, but it is economically unprofitable, because of to big deflection of main route.
In fact, write in your transportation requirements whether you want to see something special in Albania or Montenegro, and we will ensure that your cheap taxi from Tirana to Podgorica show you something you haven't even assumed that exist in these European countries.
Transportation from Tirana Albania to Budva or Kotor is iterative ride
If you are seeking the best way of taxi transportation from airport Tirana in Albania to Budva or Kotor in Montenegro, you are probably familiar where are you going. These two towns in Montenegro with a reason bears the titles of Adriatic pearls. Taxi is the most sensible method of transport from Tirana airport or downtown and whole Albania to Kotor Budva Ulcinj and to Montenegro in general. If you're wondering whether we are just trying to put on one ride more, try to find out from those who shouldn't take a cab, how they passed!
Public transportation by bus from airport Tirana to Kotor and Budva in Montenegro is in the realm of science fiction. Those who at least once traveled through Albania know well what we're talking about. Even the capital Tirana hasn't main bus station! I think we've said enough. With cheap online service taxi airport Tirana to Budva Kotor Petrovac Podgorica Porto Montenegro you are protected from all unpleasantness.
Providing for a years at the first place safe online booked taxi service from the only one Albania airport Tirana - Rinas to magnificent resorts Kotor and Budva in Montenegro, including capitol Podgorica, we are recognized as the most convenient service. Impeccable organized company allows you traveling without stress and wide-network of experienced taxi chauffeurs guarantee for your pleasure. In addition to the drivers, comfort class fleet enhanced with VIP vehicles and minivans will make your transfer by taxi from airport Tirana to Budva Ada Bojana Kotor Podgorica Ulcinj will traveling like fairytale.