Dear customers, at the beginning of this article first we want to clearly indicate what does it mean group transportation. Every transfer more than a four persons is a group transport. We are not familiar with the traffic law in other countries, but for Montenegro we guarantee that every registered taxi vehicle must be 4+1 seats. So it means that only four passengers can travel together in one cab.
Many, many times we had requests for five or six seater taxi car, but unfortunately something like this can be done only by minivans. For group taxi transfers from Podgorica airport we have special department associated to our company and registered for that activity.
Airport Transfers by Minivans
If you are traveling from airport Podgorica in a group of more than four persons, please indicate that in your request. There is a several types of minivans, depending on the number of the seats and comfort category. The most common requests we have for the classic mode of transport - passenger vans comfort class. In this group of vehicles we use standard minivans for transportation from Podgorica airport like Mercedes Viano - Vito, Renault Trafic, Opel Vivaro, VW Transporter and similar. This are mostly eight seats minivans with enough space in the trunk for the luggage of same number of travelers. Sometimes it's not so pleasant when we have a larger family with two adults and three children, and we simply have to answer that their transportation must be done by a van at almost double price than standard comfort taxi cost. But unfortunately we are not the ones who created the law, we are just obliged to respect the rules.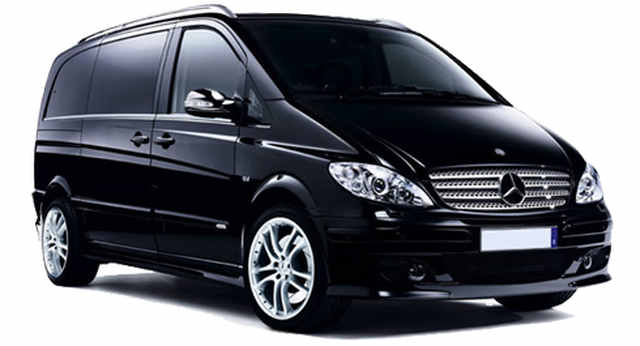 Besides the standard eight seats vans, which usually require, in our offer we also have a Mercedes Sprinter, which has eighteen seats. It is most often used for organized group travel to/from Podgorica airport, as well as for pre-arranged excursions and tourist tours through Montenegro and the region. For special occasions, or for travelers who want to enjoy the highest possible luxury and they travel in a group of four to seven people, we offer brand new luxury Mercedes V Class.
This is one of the most expensive forms of group transport, and reservation is preferred at least seven days in advance. Reservations of standard minivans which can carry up to eight passengers is free of charge, but if you want to schedule Mercedes Sprinter or VIP minivan, you have to pay at least 30% of the price in advance.
Organized Bus Transport
As a serious company which is for many years active in the field of taxi transport, we have cooperation with bus operators from all over Montenegro. There is almost no task that we cannot respond, and satisfy all the requirements of our clients. If your group need organized bus transport from Podgorica airport we can offer different kinds of buses. Depends on number of travelers and distance you need to pass, we will make the best offer for you. New and modern buses will surely meet all your criteria applesauce to comfort and safety.
We offer buses of brands Mercedes, Setra and Man. The seating capacity is in the range of 32 to 60 seats. Users of this type of service are mostly tourist companies, sports associations, and organizers of seminars and conferences in Montenegro. Also excursions larger number of participants require this kind of transport. Transport by bus is not limited for airport Podgorica transfers, we can provide any scheduled ride in Montenegro with starting - ending point at any location.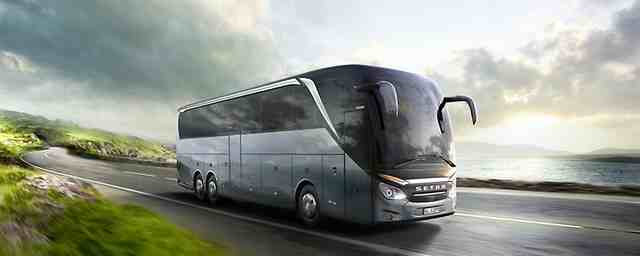 Please keep in mind that Montenegro is tourist destination and that every year there are more and more tourists, and that your requirement for bus transportation must be received and processed at least seven days prior to the date of travel. At least thirty percent of the price of the trip must be paid in advance for this type of service. There are two ways of making the reservation payment, the invoice to our foreign currency account or by credit card.
For payments via invoice usually process until we receive the money on our account takes up to seven days, and that is a reason why reservation must be processed at least a week earlier. In the case of urgent booking, you can use your credit card, but not through the website, only in direct communication with our dispatch center. We are here to serve you in all needs you may have for group transport from or to Podgorica airport, as well as to/from any Montenegrin or regional resort.