If you are worried about how to travel from Podgorica airport to Herceg Novi, we have the best solution for you. Professional local chauffeurs with higher middle-class cars are the right choice. Schedule online comfortable and reliable taxi from airport Podgorica to Herceg Novi without prepayment by credit card. Cheap and safe service at your disposal 24h during all year. Taxi transfer Podgorica airport – Herceg Novi at the price of 100 Euros with included ferry tickets 10 Euros. Travel distance is from 116 to 160 kilometers, depending on chosen route. Taxi driver will select best route from Podgorica airport to your destination in Herceg Novi according to traffic conditions. Fixed price valid for traveling by comfort car vehicle and 1-4 passengers. If more people travel together our Minivan - Minibus department will fulfill all your expectations. Fully licensed and cheap transportation service Podgorica airport to Herceg Novi by reasonable price of local providers. Don't overpay expensive airport chauffeurs.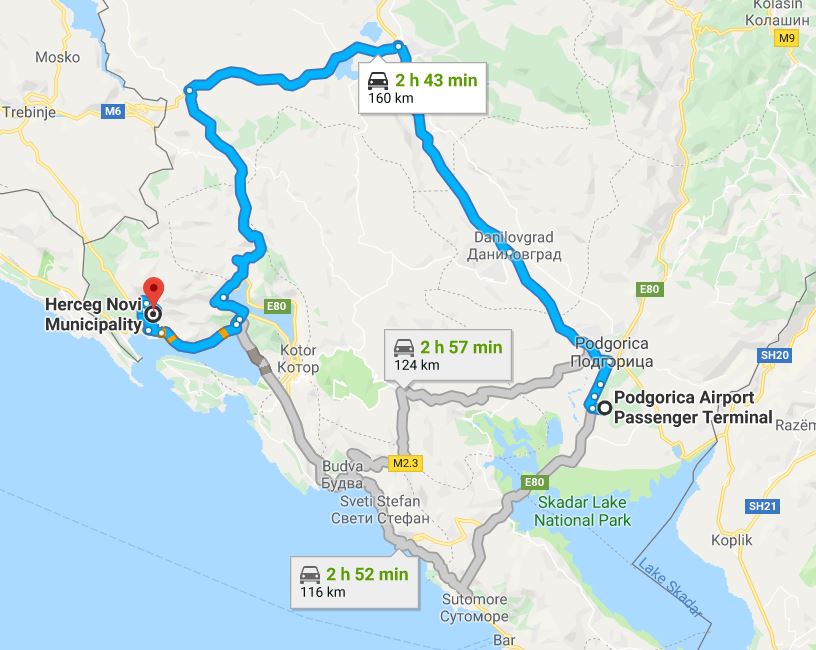 How and when to book a trip. You can do it completely for free on our site, using multiple options. No matter when you make a reservation, you will always have a fixed price that is also valid during the peak of the tourist season. But just to know, we are not located at the official taxi stand in front of Podgorica airport. You must book a ride to Herceg Novi at least 30 minutes in advance. When you confirm everything with dispatcher, you can fully count on our service. Our contact form is quite simple and does not require your personal information such as phone number or credit card information. You can book a taxi from Podgorica airport to Herceg Novi also by phone call or SMS. Our operator speaks fluent English and, of course, Montenegrin language. When you receive a return email, your transfer is reserved. Confirmed transport can be rescheduled on your request, or if the circumstances dictate it. In this case your journey from Podgorica to Herceg Novi will not be charged more than it is agreed.
How to make a contact with the driver upon arrival at the airport. You don't need to call or do anything special. Just pay attention after you pass custom check point and exit to airport hall. Your driver will be there, and your name will be written on the sign. He will help you to carry your luggage, and eventually show you where is an ATM in the hall. Before you start with your taxi transport from the airport in Podgorica in direction of Herceg Novi you can buy Montenegrin SIM card at the airport if you need it. Our cars are always parked at the official parking which is immediately across the main building. Driver will take you directly to the address of your hotel or apartments you booked. During the summer months, heavy traffic jams tend to hinder normal traffic. Driver will choose the most economical travel route. From Podgorica airport to Herceg Novi by taxi you can travel using one of the three roads visible on the picture.
When you arrive at your destination, there is only one thing left to do, pay for a ride. We do not charge our service in advance, and total payment is directly to the driver after the transfer is completed. Euro is the official, and the only one currency of payment in Montenegro. If you have not booked a return, you can do it directly with the driver, or contact us again. We can provide your return ride from Herceg Novi to Podgorica airport by the same taxi price and same conditions. Please just pay attention that in July and August travel time can be up to 3 hours and 30 minutes.